Feeling like my belly was a tank full of fluttering butterflies, the drive down was filled with suspense and excitement as if we were playing 'first one to spot the tower'… that initial tent we could see over the trees followed by the various adrenaline rides, was the landscape we'd be waiting for. With a line-up brimming with incredible live acts and DJ's, it was going to be a huge year for Global Gathering. Getting in with no queues, we pitched our pop up tent and went for a wonder in the scorching heat.
The VIP section was complete with two themed areas; the VIP Hangar and VIP woods, filled with quirky chill out spaces, food stalls and a DJ booth. The woods were amazing, decorated with hanging disco balls, hammocks and odd bits of furniture (like a working piano and vintage tables and chairs) it felt like the mad hatters tea party. Perfect for a wind down when the hullabaloo of the festival got a bit too much.
Making our way to the Visionquest arena, Davide Squillace was warming the tent up with some deep and dark sounds, and looking back on this arena, I think he played the best set out of all the DJ's on that line-up. The Electric arena had massive amounts of energy all night, starting with Totally Enormous Extinct Dinosaurs who was quite tame in comparison! Sporting a sparkly number, he and the Dino Dancers got the night started with tracks of his new album and some much loved oldies. Blood Pressure did it for me!
Friday night was literally back and forth back and forth from the Visionquest and Electric arenas. Art Department played it safe and didn't pick it up enough ready for Visionquest (Seth Troxler, Ryan Crosson, Lee Curtiss) to come on, and when they did the atmosphere didn't really change. We kept popping back throughout the night to see if there was any action in the crowd, but unfortunately it was as flat as a bottle of shaken up coke. The Electric arena on the other hand couldn't get enough fizz, it was going absolutely crazy. Fake Blood must of been hooked up to a Mentos and coke machine, because tune after tune was heavy with electro and bass that was sending the mass into a frenzy. Annie Mac carried on the happy buzzy vibes, mixing it up with more of the well known radio stuff and a few jungle numbers. Staying to see the last act of the night, Steve Aoki, he was a little bit tooooo dancy-electro, so we called it a night.
Next morning we were greeted with more sunshine and enjoyed a spot of breakfast in one of the VIP chill out spots. Rudimental was on at 2pm in the Global arena so we made our way there feeling fresh ready for day 2. They played a combination of house and jungle and left the best song till last… Rudimental – Feel The Love. Unfortunately the duo didn't play a live trumpet, but they made up for it with their own 'hand trumpet' that they happily played. Never the less, it got the entire capacity of the tent up and bouncing and with the sun shining outside, it was perfect! Eats Everything played a great set, as I expected! Mixing it up with TEED – Blood Pressure and Cajmere – Percolator. Heidi played some pretty heavy tunes as well, keeping up with the impressive line-up that just seemed to be getting better and better! Seeing her let herself go by swinging round the poles of the built in DJ booth was also pretty funny, she was loving life.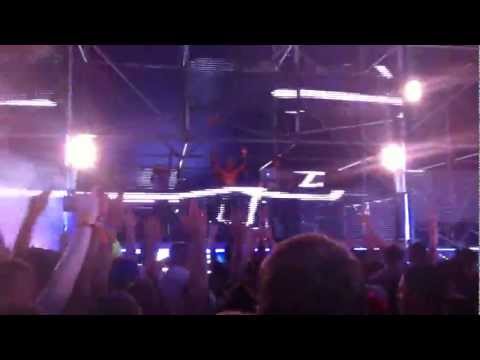 The night was drawing in and going outside to the Ec-lectricty arena, it has cooled off massively and was actually really cold! Disclosure were coming on at 10 followed by James Zabiela but we had caught a chill and struggled to enjoy it. Choosing to nip back to the tent for a coat and an extra pair of socks, we finished off our £50 crate of beer (oh my god, expensive!) and went back in to see Joris Voorn and Nic Fanculli b2b. Hearing rumours that the headliner, Jamie Jones had come on early and left… Joris Voorn and Nic Fanculli stepped in and played till the end with some pretty nice deep house and techno. It's pretty disappointing we didn't get to see Jamie Jones because it's been ages since we have, but never mind these things happen.
Overall the festival was fantastic; it has lots of spaces to chill out in and loads of rides to go on if you were feeling brave (I still don't understand why anyone would want to do a bungee jump at a festival…) The arenas were great and the main stage area was huge that certainly filled up! The only thing I would nitpick at is; everything was so expensive. Drinks were £4-7  each, and food prices were about £7  for a burger or pizza. As you're not allowed to take food or alcohol in, I think they were a little unfair with their prices and should maybe consider being a bit more reasonable next year!