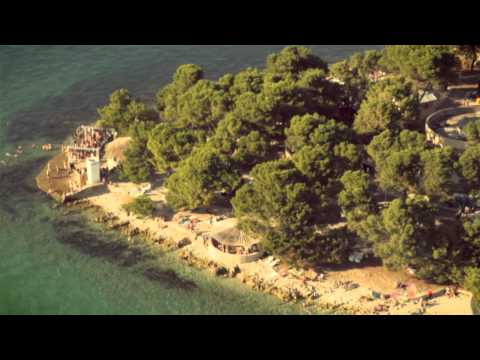 Immediately after returning from Soundwave, I was asked by the festival organisers to submit a short quote summarising my experience of the festival, I wrote:
Stunning scenery, marvellous music and plenty of sun, sea and sand, Soundwave is an amazing music festival combined with a relaxing summer holiday on the sun soaked Dalmatian coastline. With a diverse line up of incredible artists, Soundwave offers a truly unique party atmosphere for real music lovers in a beautiful yet affordable location.
Suffering from a serious case of post-festival blues, I made a weary and withdrawn return to the office the following day. On my return I began corresponding via email with a friend of mine who essentially asked the same question. An extract from my not-so-formal e-mail summary is attached below:
The whole thing was just toooo sick bruv, can't begin to describe it. I interviewed Ghost Poet before his set, had a bev with my favourite UK MC (Yungun), got  on the guestlist for one of the boat parties which was f**** heavy, met some wicked guys from New Zealand, the festival was 70% girls fam!!..You would've killed it out there! Partied till like 6 in the morning most nights, plus the weather was just nice, hot and breezy, the music was incredible man, nice mix, exactly my kinda thing, but even if you hadn't heard of many of the acts you would've still loved it bruv, it was quite cheap out there too. We've gotta do it next year bro, too dope!!
There are very few things in life that can get me excited enough to adopt so many ghetto-superlatives in the space of one poorly structured paragraph. J Dilla beats, the Kim Kardashian sex tape, and now Soundwave Festival. With four sunshine-filled days and breezy nights of beautiful scenery, like-minded people and most of all incredible music, my excitement levels were on-par with the proverbial kid in the candy store.
Firstly the location of the festival was an inspired choice with the beach-front Garden in Tisno providing a gorgeous setting for the festivities. Situated between Split and Zadar, access to Tisno was very easy with flights and transfers proving to be relatively inexpensive. For festival goers who were daring enough to drag themselves away from a full-programme of incredible music on site, the local area offered everything needed for a relaxing summer holiday. You could unwind on the beach in the Dalmatian sunshine, spend half a day exploring the local region on quad bikes, rent a boat and take to the turquoise blue waters of the Adriatic sea, or indulge yourself with a fresh sea food platter at one of several water-front restaurants.
I personally opted to over indulge on music. With over 50 diverse acts and such an incredible line up of inspiring musicians merging all corners of the contemporary music spectrum into this sun soaked, bikini littered haven, I struggled to stay away from the festival site…Also did I mention the festival was 70% percent girls? why would you want to leave? Are you mad bruv?
With expectations running high after leaving a dreary UK summer behind, we arrived at the festival site late on Thursday night just in time to catch UK hip-hop legend Yungun getting the festivities started with DJ Mr Thing on the main stage. Both stirring the crowd into an alcohol fueled frenzy, it was all-smiles as the duo dropped a combination of classic hip-hop jams along with some of their own material including Y.G's very apt summer-jam Sunshine. Over on the beach stage, Bristol based turntablist and audio-visual mystro DJ Cheeba had the crowd in full party mode with a fine selection of hip hop and electronic cuts. With excitement levels running high and Croatian cocktails flowing freely through the veins, no one was in the mood to call it a night when performances officially finished at 1 a.m. Cue a string of Kid n Play- style house parties across various apartments on and off the festival site. Rap battles and everything, what a great way to kick off the festival.
Click here to read the following  entry – Day 2