After a crazy eventful 40 hour coach journey from Manchester to Novalja, travelling through every single European country you could think of… we had made it to Hideout festival! It was 1am and we still had our campsite to find and tent to pitch! Climbing on one of the buses that had been provided for the festival, we found our home for the next 7 days was at the bottom of a very large hill nestled in between beautiful landscapes and pebbled beaches.
Waking up at 7am feeling like a roast chicken cooking inside a hot tent however was not so stunning! But you can't deny how impressive the location is and how festival ready the residents are! With such a small population, you'd imagine the island to be wiped clear with just a few Croatians clinging to trees by the time we were done with them! But actually, the bus services were life savers, running 24 hours and taking you to all the surrounding towns. The restaurants were also really cheap and offered loads of choices to eat. They seemed to do pizza everywhere and it was always really tasty!
The festival hosted a total of 15 boat parties and numerous day time pool parties which kept the festival feeling running right through the day into the night. We set sail on the Drop The Mustard boat party which saw Manchester DJ's Ed Norris and Oli Hackett charm the seas with their combination of live saxophone and deep house. Heading out to one of the pre parties to see Heidi later on, we had our first taste of Hideout festival inside the incredible venue Papaya. All open air with a fantastic sound system and stylish interior… it certainly had the wow factor for me, can we get one of these in Manchester please? Outside the main strip of clubs was the gorgeous Zcre beach that was lined with lit up tents for when everything just got a bit too crazy, many people took to these at night when they needed to recharge their batteries or have a little power nap! They were like chargeing pods but for people! Really sweet idea.
Going back to Papaya early the next night we enjoyed VIP treatment at the press party overlooking the arena while North Base were playing. Here we drank cocktails and ate canapés and well, felt like the bees knees basically! We stuck around for Redlight and MC ASBO who stirred the crowd up with house, breakbeats and dubstep then decided we best mingle with the crowds downstairs. Heading to Kalypso on the other side of the beah, the venue had a really cool treehouse feel to it with people dancing on podiums 30ft in the air. We caught a bit of Kerri Chandler then headed to Aquarius to see the rare b2b set from Four Tet and Caribou. They played an electronic, techy set that never fell flat at any one point, every pillar, post, table, barrier and platform were being danced on! Ben UFO carried the night through with some gritty tech house, then we stopped in on Soul Clap who was playing Julio Bashmore – Au Seve when we walked in. The crowds was going wild.
The daytime at hideout could of gone 2 ways, you either get on a bus and get straight back on it at one of the pool parties, or you chill on one of the many hidden beaches in Novalja… We mainly chilled at the campsite beach because lucky for us, it had it's own DJ and he was rather good! Party time came and Eats Everything was on at half 11 who played an amazing set from start to finish, as well as having some serious skills mixing about 5 songs at a time, he played the best tunes of the festival including Totally Enormous Extinct Dinosaurs – Blood Pressure and Cajemere – Percolator which was a favourite amongst many of the DJ's at Hideout. Walking through to Aquarius 2 which had the decks indoors, the venue felt more like a regular dark room rather than an open air mega club! Shy FX and MC Wrec ran the tempo through the roof with some heavy drum and bass and reggae which was a welcomed break after hearing nonstop house music since Tuesday! Claude Von Stroke gave another highlight set in Aquarius 1, which just proved how hot the Dirtybird boys are at the moment.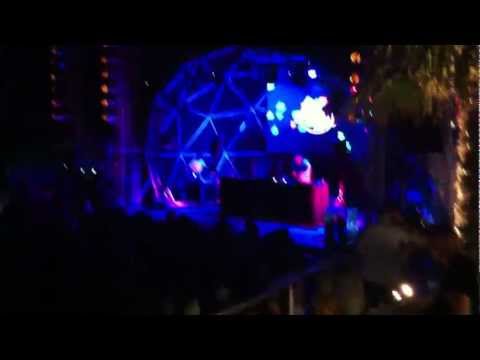 Sunday began at Aquarius 2 with Tiga behind the decks, playing techno that was hard enough to knock the walls down and make a 4th open air venue! Skream and Sgt Pokes were in Aquarius 1 and what we walked into was nothing I'd ever expected. Playing Niche – You've  Been Cheating and Telling Me Lies, my expectations of a old school dubstep set went straight out of the window. Was this a high school house party for chavs or one of the coolest clubs on Zcre beach? After half an hour of disappointing commercial tunes, we left feeling quite disheartened and walked down to Kalypso. After finding a good spot free from passing crowds we waited for the man behind the mask, SBTRKT. looking like a friendly character in a TV show in the multi coloured hut, he played one of the best sets of the festival combining his produced tracks with some tech house and nu disco, he finished the weekend off on an almighty high!
Hideout has been an adventure and one I would definitely do again. It has variety, a stunning location, incredible sound systems, hot weather and a nonstop party attitude. Even the 40 hour coach journeys were fun because the people onboard were just as crazy are you were, it was more like a 40 hour cross country rave. The only thing I'd do differently next time is get an air conditioned apartment. Waking up after 2 hours sleep in the sun is not cool and can make you a very moany and difficult person. So be careful who you camp with!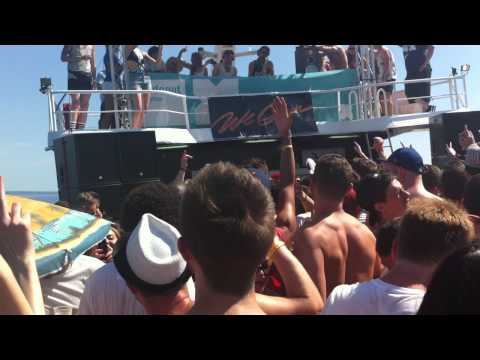 Images – Jessica Heaton & Matt Mcknight – Videos – Jessica Heaton