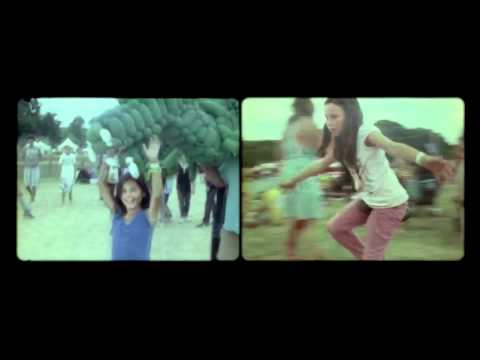 Camp Bestival is commonly and quite rightly described as Bestival's family-friendly little sister,  but still, there's nothing 'little' about this event apart from the youngest revellers who will be attracted to this fantastically all-inclusive festival!  About much more than music, Camp Bestival proudly presents an awe-inspiring range of live acts, DJs, talks, workshops, interviews & discussions, spoken word, literature and a range of other activities to suit all ages and interests.  It's a wonder how much of a programme they manage to cram in to this excellently curated event!  Celebrating it's 5th birthday this July, it seems that Camp Bestival 2012 has just got bigger and better!
Set in the shadow of Lulworth Castle itself, the main music stage will be graced by musical giants such as The Happy Mondays (if you don't recognize the name your parents surely will), Hot Chip, Kool & The Gang, Chic Feat Nile Rodgers, Rizzle Kicks, Skinny Lister, This is the Kit, and the magnificently head-dressed Totally Enormous Extinct Dinosaurs aka TEED.  In keeping with the family festival vibe, sibling music trio and Camp Bestival favourites who are described by Rob da Bank as 'practically family', Kitty, Daisy and Lewis will be returning to the main-stage in the Castle field on Friday with their mix up of traditional and alternative music. New acts joining the Camp Bestival line-up for 2012 include Jamie N Commons, classic soulsters Vintage Trouble, folk five-piece To Kill A King, an acoustic act from Gecko, romantic lyrical tales from L.A. Salami, and Mancunians The Slow Show.  And this is just a sampler of the whole array! Ranging from retro to modern, from the sweetest soul to friendliest folk, there really is something to suit all musical tastes.
If the live line-up isn't enough to get you going, there's a whole host of hand-picked DJs to amp up the hype. To name just a few, dance-floors will be filled by the likes of Nextmen with some Reggae influenced hip-hop, bass love from Breakage, Reggae Roast, Sombrero Sound System, XFM's John Kennedy, the Mix It UP DJ Kru and drum 'n' bass linchpin DJ Charge.
As exciting as the music line-up is, it's all the activity extras that make Camp Bestival so special! It honestly looks set to be the most trendy and alternative holiday-camp going this summer. Kids (and adults) can be entertained throughout the weekend in an endlessly diverse programme of arts, dance, debate and activity workshops on offer in association with organisations including The English Royal Ballet, The Tate and The RSA. On top of all this and in the spirit of the Queen's Jubilee and the Olympics; Camp Bestival gets rather British this year (ma'am), celebrating our country's folk traditions with a Morris dance-off running the whole weekend featuring the best of Morris dancing troupes from across the South Coast!
The Arts tent will host a number of prestigious live artist interviews, with the likes of music legend Nile Rodgers who will treat Camp Bestival goers to a meet & greet and book signing before taking to the stage himself. The East Lulworth Literary Institute will be joined by star TV actor Mat Horne, talking to the audience about 'How To Be A Little Bit Funny' (I will probably just be busy swooning). There are author talks to suit all levels of intellect: kids stories read by Howard Marks, A Shakespeare Masterclass with Ben Crystal, Essex-boy humorist Russell Kane, and even a Crap Dates Workshop led by Rhodri Marsden if you're looking for festival love! There's also a hand-picked sample of the most talented spoken word-artists including Scroobius Pip, Paul Cree, Bridget Minamore, Indigo Williams, Anna Freeman, and Breakfast with Henry.
The organisers of Camp Bestival are especially proud of its family focus. The Kid's Garden provides 100's of free activities to keep them entertained leaving music-loving adults to enjoy the line-up and soak in the atmosphere.
If for some reason music isn't your thing, Camp Bestival is surely the answer to still get you in the festival spirit this summer. I could go on listing forever, so check out www.campbestival.net for the real full picture, and up to the minute news of more to come.  Camp Bestival 2012 opens for camping on Thursday 26th July with non-stop activity going until Sunday the 29th July at Lulworth Castle, Dorset.  I'm exhausted at the prospect already, but extremely  excited!
Click the wonderfully beautiful Camp Bestival image below for all the details…