Toilets… We all have to go, so we might aswell make it fun. Theres no reason why you should spend a few minutes a few times a day staring at a whitewashed walls whilst you go about your business. Cool toilets can also be a way for a restaurant, nightclub or other business to add a little extra entertainment for customers that can become a talking point that will advertise a business by word of mouth. Below are a number of cool, clever and humourous toilet designs from around the world.
The Ski Toilet
Posibly the coolest toilet ever made. This Japanese ski resort toilet has everything: a vertiginous trompe l'oeil mural, mountain view, ski's, and a pink toilet that washes your bum.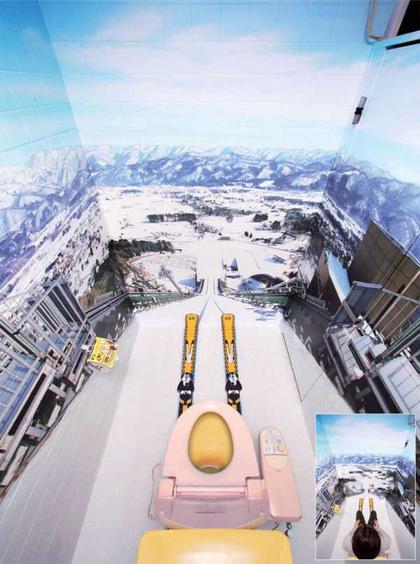 The See Through Toilet
A two way mirrored toilet outside Tate Museum in London. Below is a view from the outside, and next to that is a view from the inside.

Old Fashioned Throne
This old fashioned throne toilet comes with an ashtray, candle holder, and hand painted toilet bowl and plaque. It includes a song when lid is raised, and features a solid ash throne with 3 layers of polyurethane coating, a pull chain flush with bell.
A Loo With a View
Solid Gold Toilet
This 900-pound solid gold toilet in Hong Kong. Talk about a royal flush.
The Trombone Toilet
This unique toilet design would look great in a jazz cafe of music venue.
The Fishbowl Toilet
Cool fishbowl toilet, just be careful where you put the bleach!
Chinese Mouth Toilet
Futuristic Toilet
Artistic Toilet
The Lack of Class Toilet
The Dissapearing Toilet
The disappearing urinal, in London, England. These pop up at about 10 p.m., just in time for the drinking crowds, and pop back down at sunrise. Beats peeing in the doorway, just hope there is a system preventing people getting trapped in there!